Sunday, 19th May 2019
During the annual 2-hour recital at Skerries Mills by some of the weekend's top performers, Peter Browne will lead a Seamus Ennis Centenary Tribute with a talk and some pipe playing. The Tribute will also include an uilleann pipe solo played by Sorcha Ni Scolai, followed by a set of tunes played by the 3 Ni Scolai sisters Emer (harp), Sorcha (pipes) & Caoilfhionn (concertina). This will be a special treat not to be missed. This event is sponsored by Progressive Credit Union.
Peter Browne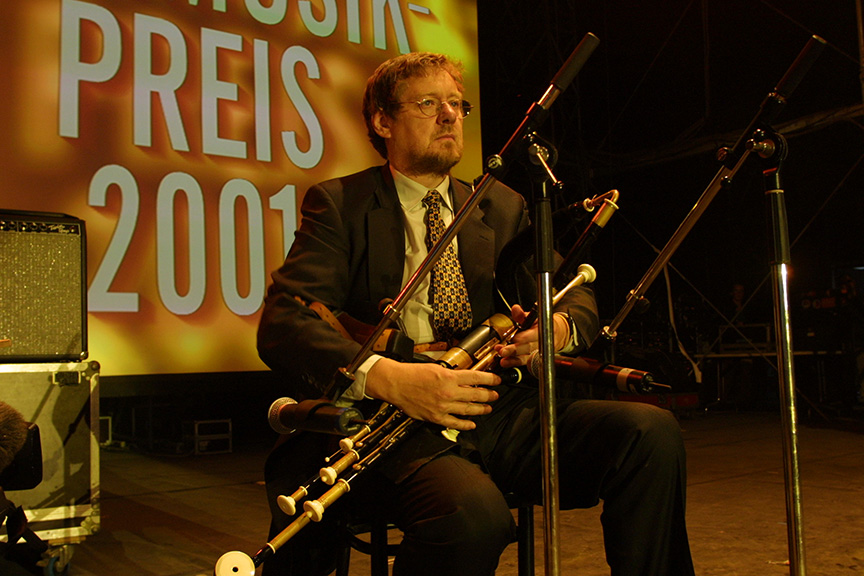 Peter Browne was born in Dublin in 1953 and commenced playing traditional music at the age of 6. He received tuition in the playing of the uilleann pipes from three of the great players of modern times; Séamus Ennis, Leo Rowsome and Willie Clancy and on reaching his teenage years was already acknowledged as a leading player of that instrument. In his youth he attended many of the major traditional music events of the time with his family and frequently visited Miltown Malbay, Co. Clare, home of Willie Clancy and Lisheen, Gneeveguilla, Co Kerry staying in the home of Denis Murphy the famous Sliabh Luachra fiddle player who was a family friend.
In the early 1970's he played with the groups Raftery and 1691 which was a forerunner of The Bothy Band and he later spent two periods playing on both pipes and flute with The Bothy Band who were much celebrated for their skilled and energetic approach to the playing of traditional Irish music.
He has played music in many countries in Europe and in North America at concerts, lectures and recitals and made two groundbreaking albums of music and song in the 1980's together with Philip King on the Gael-Linn label - Rince Gréagach and Seacht Nóiméad Déag chun a Seacht. These discs were combined and reissued in 2001 as Seacht Nóiméad Déag chun a Seacht on Gael-Linn CEFCD 097.
His work as a session musician has included contributing to recordings by such people as Paul Brady, Maura O' Connell, Mary Black, Mick Hanley, The Chieftains, The Dubliners, Scullion and Cór Chúil Aodha and he has also been part of various ventures in modern experimental music and has played the works of Bill Whelan, Michael Holahan, Roger Doyle and Paddy Meegan. He has featured as soloist with the National Symphony Orchestra and with the RTÉ Concert Orchestra on their 1998 tour of North America and in the series Music in the Classroom. He was the soloist with the Ulster Orchestra in a performance in the Waterfront Hall in Belfast on St Patrick's Day 2001 of The Brendan Voyage by Shaun Davey and has played the same work with the National Youth Orchestra of Ireland. He performed on the Millennium stage in 2000 in the Kennedy Centre, Washington D.C and his performance can be viewed on the Kennedy Centre website. In May 2003, he was a guest musician with the Chieftains in two memorial concerts for harper Derek Bell, held in Dublin and Belfast and featured on a track on the subsequent Chieftains CD for Derek Bell.
He has twice been the winner of the Oireachtas uilleann-piping competition (The Breandán Breathnach Trophy in 1994 and 1998) and has also won the prize for slow-air playing in both those years.
He worked for over 40 years in RTÉ Radio One with a special interest in traditional music and his weekly programme The Rolling Wave enjoyed a large listenership in Ireland and abroad.  He also presented and produced programmes such as Sounds Traditional, Áirneán, Céilí House and in the late 1970s presented The Long Note. Noteworthy broadcast projects included researching, presenting and producing series of documentary programmes on the lives and music of famous traditional players such as Séamus Ennis, Willie Clancy, Pádraig O' Keeffe, Denis Murphy, Paddy Cronin, Peter Horan, Elizabeth Crotty and the 19th century traditional music collector Canon James Goodman.
He also produced a series of commercial CD's for RTÉ featuring rare recordings of traditional music from the RTÉ Sound Archives: The Return from Fingal – early archive recordings of the piper Séamus Ennis made over a 40 year period along with extensive biographical and musical notes, Music from Sliabh Luachra – Denis Murphy, The Sliabh Luachra Fiddle Master – Pádraig O'Keeffe, Elizabeth Crotty - Concertina Music from West Clare, a compilation of rare recordings by a famous musician from the West of Ireland, Labhrás Ó Cadhla, Amhráin ó Shliabh gCua, a collection of songs by a famous Waterford sean-nós singer, The Gold Ring, featuring the uilleann piping of Willie Clancy and Tuning the Radio, a collection of early (1940s) recordings made for Raidió Éireann by the MRU Mobile Recording Unit.
He also teaches uilleann pipes, flute and tin-whistle at the DIT Conservatory of Music and drama and plays and teaches at events such as Scoil Samhraidh Willie Clancy (where in recent years he has conducted a week long class specialising in slow-air playing). He also teaches a weekly piping class at Na Píobairí Uilleann in Dublin.
Emer, Sorcha & Caoilfhionn Ní Scolaí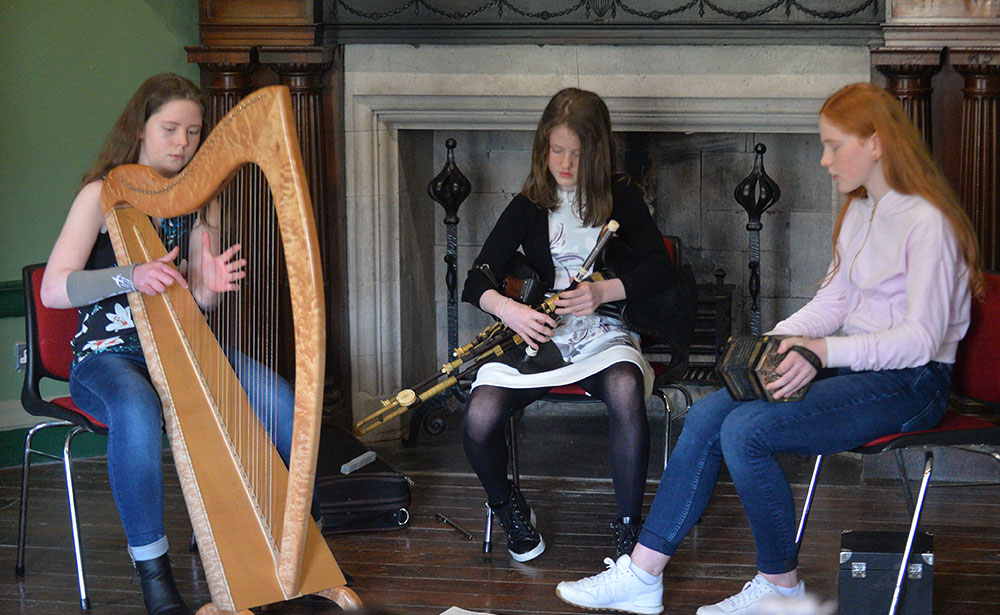 The Ní Scolaí sisters from Drumcondra, Dublin play beautifully in solo, duet and trio combinations and will be featured guests at the Skerries Mills recital on Sunday as part of our centenary tribute to Séamus Ennis, uilleann piper, collector & broadcaster. They recently played together at An Halla Mór in the Pearse Museum, Rathfarnham at Cairde na Cruite's 2019 Spring Concert to mark a centenary celebration of Séamus Ennis.
Emer(15), Caoilfhionn(13) and Sorcha(12) are the eldest of six siblings; they play harp, concertina and pipes/whistle respectively. All are members of CCE Beaumont.
Emer attends Aine Ní Dhubhghaill at the RIAM and Gráinne Hambly for traditional instruction. She holds seven Fleadh Cheoil Harp finalist medals at U12 and U15 including three Golds (two for harp and one for harp slow air). She is also an O'Carolan U12 winner and Open winner as well as a winner in the Feis Ceoil at U12 and U15.
Caoilfhionn is taught concertina by Noel Hill and has an all Ireland in the trio U12 and multiple Dublin and Leinster medals.
Sorcha is taught pipes by NPU starting out with Gerry Lyons and for the past two years Fionnán MacGabhann. She has won five all Ireland medals in the past two years and is the current Pipes and Pipes Slow Airs champion at U12.
Sorcha has pride of place at our recital as the uilleann piper and will also perform solo ; she earned the nickname 'Queen of the Pipers' with the Fleadh TV crew last year.
She has also featured at other events this year to mark the centenary (organised by the Fingal County & Dublin City Councils in conjunction with the Séamus Ennis Arts Centre, Naul) and in February her photo with piper Ronan Browne was published on the Irish Times front page. Last September she was featured at the Swords Fleadh with piper Louise Mulcahy playing together after Louise's lecture on Women in Uilleann Piping.