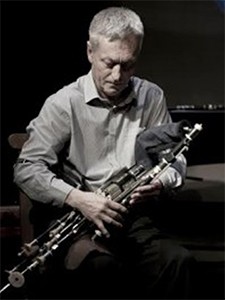 Born in Dublin, Ireland, Mick began his musical education on the Uilleann Pipes in the renowned Thomas Street Pipers Club in Dublin. His father Dinny O'Brien, a traditional "box" player, was also a constant source of tunes and inspiration. Mick recorded his first LP with his family when he was 13 years old. He later joined Na Píobairí Uilleann, an organisation founded to promote piping, where he absorbed hundreds of tunes and refined his technique. His playing can be heard on numerous recordings with artists such as The Dubliners, Frankie Gavin and the RTÉ Concert Orchestra.
Mick has toured extensively and given master classes throughout Europe and North America. His highly acclaimed solo CD of traditional Irish music; "May Morning Dew" was released in 1996.  In 2003, Mick released Kitty Lie Over along with fiddler Caoimhín Ó Raghallaigh. It was named No.1 Traditional Album of 2003 by Earle Hitchner in the Irish Echo.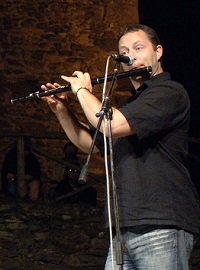 Troy Bannon is a flute player from County Meath with a strong rhythmic traditional style. He has played all over Europe, America and the UK with various outfits over the years, the most notable of which were Providence with whom he recorded the album 'Providence III' in 2005 and also made many TV appearances including the TG4 music show Geantraí. He is also a member of the 3 time all-Ireland winning Naomh Pádraig Céilí Band. Troy has taught at workshops all over the world and also teaches a regular class in his home county of Meath.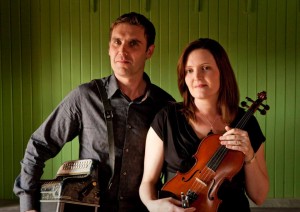 Paudie O Connor and Aoife Ní Chaoimh
Paudie O Connor and Aoife Ní Chaoimh are an accordion and fiddle duet from County Kerry. Their music is heavily influenced by the The Sliabh Lauchra musical tradition of East Kerry and North Cork. In 2014 they released the highly acclaimed album Didn't She Dance and Dance which paid homage to the their musical heroes such as Johnny O Leary, Padraig O Keefe and Julia Clifford. Paudie has also released the critically acclaimed solo album Different State and a duet album with Riverdance Uilleann Piper John O Brien. Paudie and Aoife have performed on numerous TV productions, most recently Tradfest TG4.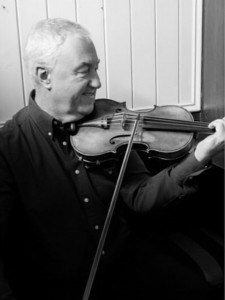 Fiddle
John McEvoy is a highly respected fiddle-player, composer and teacher based in County Meath. He has been described as "a supreme traditional musician"; one of Irelands finest fiddle players, recognised for his sensitive and rhythmical interpretations of the tradition. John has collaborated with many of Ireland's leading musicians, touring with Bakerswell, Kelp and Providence among others. His recordings include solo CDs 'Returning' (1999) and 'Irish Traditional Fiddle Music' (2012) and the much acclaimed duet album, 'The Kilmore Fancy'(2004), with his flute playing sister, Catherine McEvoy. In 2007 he released 'Pride Of The West', with flute player John Wynne, described by the 'Irish Examiner' as...indeed a gem.". He has toured extensively in Europe, New Zealand and the USA and is a founding member of the traditional group Gatehouse and a tutor at Scoil Samhraidh Willie Clancy.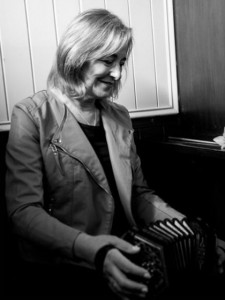 Guitar and concertina
Dubliner Jacinta McEvoy is an accomplished guitarist, concertina player and teacher. In 2009 she published 'Dancin' Time' and ,'An Damhsa' a folk and Irish dance resource pack for Primary schools. A frequent performer on TV and radio, she has recorded with a number of musicians including the late Chris Droney and was a founder member of the groups Turlough and Keeper Hill. She has appeared at a number of festivals with the all-female traditional group Macalla. Jacinta is much sought after as an arranger and accompanist and has performed throughout Europe and Ireland. She currently performs with Roscommon based group Gatehouse.
Alan Byrne is a traditional tenor banjo player from Dublin. His playing can be heard at sessions throughout the Fingal area and at festivals nationwide. Alan holds a senior all Ireland banjo title and has toured with CCE on several occasions. He is also one of the growing number of traditional musicians who has moved to Skerries in recent years.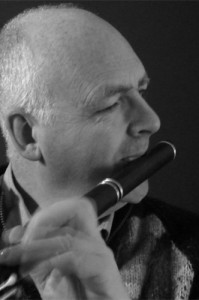 Jim became interested in traditional music with a group of like-minded friends and was taught by musicians like Des Leech, Darach de Brún and Mary Bergin. He was also lucky enough to have as contemporaries many great musicians like Dubliners Paul O'Shaughnessy and Mick and Denis O'Brien, and Kerry fiddler Maire O'Keefe. As well as these musicians, his flute playing was strongly influenced by the flowing styles of players like Paddy Carty and Paddy Taylor and later by the rhythm and playing of Donegal music. He is interested in the music of the North Dublin area and plays many tunes with local associations. He is married to harpist and fiddle player, Siobhan Bhreathnach and lives in Skerries.